The idea for this story came to me in a reoccurring thought I always have about the people I see at festivals and raves alike. I have always had this curiosity of the other people I see , and what they do when they aren't …. well there. I always knew that we are usually at either our best or worst at festivals, but that doesn't always relate to who you and what defines you. This curiosity was only magnified when I met both a factory worker who builds cars in Detroit and a Vice President of a very large bank in one group of people hanging out at Ultra Music Festival: Miami 2013. From that point on, I have had this obsession with the question "Who are you 9am-5pm?" Why can't there be a little bubble above your head to tell me what other people love this as much as me?
I can't put my finger on it specifically, but I would always see the name Drunkmau5 go by in my feed. I assume from some pivoting style following-spree I stumbled across DrunkMau5 and started to see she was one of the dominate players in the game. I had to talk to her. What I found out next, surprised me in the best way ever!(Spoiler Alert: She turned out to be the most humble and awesome girl ever)
Who is DrunkMau5?
Lisa Williams
Location: Tulsa, OK
Occupation: Waitress
Age: 25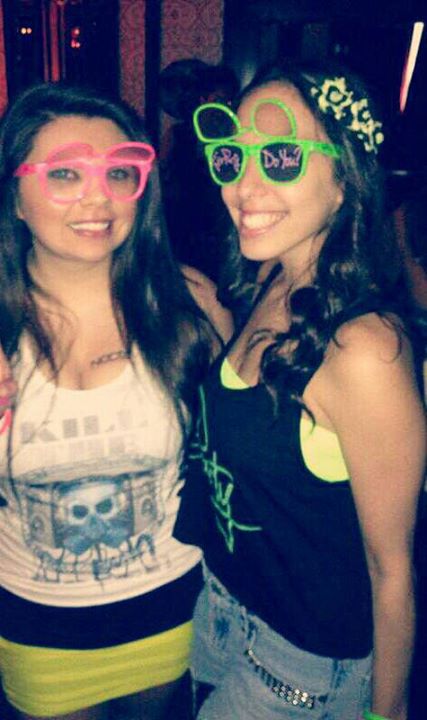 Where did the name DrunkMau5 come from?
"When I first started twitter I just randomly made this account, it was DrunkBetch. At that time I was partying, like all the time, and I just figured it would be funny to just tweet stupid stuff and not think anything of it. The more I got into electronic music, more and more each day, it got to the point where I was hoping to attract other EDM lovers. I wanted to change my name so it would automatically "hit them" that we have the same common interest. I randomly came up with DrunkMau5 and once everyone loved it I changed my name for good."
Do you have any siblings?
"Yes, I have 3 sisters and 6 brothers"
Does your family know about DrunkMau5 and your presence on Twitter?
"I'm not too close with my family, which is a huge reason why I love my Twitter Family so much. My brother knows a little bit about it, but he is still like "What's EDM?" None of them really know the extent of it, its hard to explain"
What the EDM scene like in your town?
Its very small, we actually don't have anything here. We have shows every now-and-then but the only shows we get are dubstep, that's it. We don't get much other than that. Don't get me wrong, I love dubstep but all we have is one venue called Cain's Ballroom. I'm dying to get out of Oklahoma, you have no idea!
Editor Note: We were able to reach Cain's Ballroom but they had no comment.
What was the First/Last Show you went to?
First: Steve Aoki & Datsik
Last: Designer Drugs
What was the best show you have ever been to?
"Only because he is my ultimate favorite in the whole wide world – Kaskade"
Have you ever meet any of your followers in person?
"I met a ton of people at EDC New York this past year, but I actually had 2 of my followers come to my birthday party" ("Which had a DJ at it of course" she added)
If you could shout-out one of your followers, who would it be?
Zedd Clarity: Love it, Used to Love it, Always Hated it?
"I used to . . .well when it first came out I loved it so much. If it came on and I'm by myself I would be singling the hell out of it."
Favorite Genre?
"That's a hard question! I love Dubstep, I'm a Basshead. But I love my tech-house, trance……..that's a really hard question." (laughs)
Favorite Artist?
"I love Kaskade and am obsessed with Seven Lions"
If you are to be known for any one thing, what would it be?
"Always being there for everyone. I LOVE my twitter family and I would like to be known for helping underground DJ's to get discovered through Twitter. I love to help get their name out there, and I will do anything to help get my followers noticed."
What are your biggest pet peeves?
"Mean people, negativity, and people who always ignore phone calls. I work around people all day that are negative and I just can't stand it."
Are you single?
"Yes"
What do you find attractive in a guy? [Other than loving EDM – sorry guys its mandatory]
"A family oriented guy"
What are you scared of?
"Spiders, I know that's 'so typical.' I'm also scared of death, I hope that not weird…..that sounds horrible. (laughs) ok, thats weird!"
Something your fans would be blown away to know about you?
"I went to a native american boarding school growing-up and got a college scholarship for cheer-leading."
What does your festival schedule look like this summer?
" Sun City Music Festival in El Paso Texas and hopefully EDC Orlando "

KILL, FUCK, MARRY
KILL:Paris Hilton. Does she count as a DJ? (Laughs)
FUCK: Borgore
MARRY: Porter Robinson