Saturday night, I had the pleasure of attending Stanton Sessions at a little known venue in the Miami EDM scene that goes by the name of WILL CALL. In fact, it is not really a music venue at all. It's a regular bar and lounge located at 700 NE 2nd Ave. Once a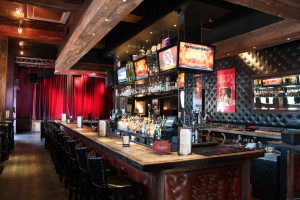 year, during the WMC, they bring the bass back to Miami. For anyone who knows their history of electronic dance music, Break Beats was the EDM sound of Miami in the early 90s. And every year, during the WMC, WILL CALL hosts a break beats event. Saturday night they pulled in some of the top names in break beats for the last 20 years; DJ Icey, Baby Anne, the Stanton Warriors, the Freestylers and many other smaller names but equally good DJs.

I had more fun at this event, in one night, then I have had in 6 years of Ultra Music Festival combined. I'll tell you why…
First of all, the DJs performed like professional DJs… on and off the stage. Anyone could go up to them and talk to them, buy drinks with them, or whatever. I was able to walk up to some of the biggest names and ask them for interviews, and they said yes. They were happy to answer whatever questions I had not even knowing who I was or what company I was representing. You may think, "oh, that's because they aren't famous". These DJs ruled the underground long before most of you knew what EDM was. They have hundreds of thousands of fans, although, that can't be reflected in every one of their Facebooks. They were most popular long before social media was a thing…Which also says a lot. They didn't need it.
Now when I say professional on the stage I mean that they are there to do a job that they love. And they are very good at what they do. They aren't acting like rock stars like some DJ's, they aren't playing prerecorded sets like other names you may have heard of. They were up there mixing 3, 4 songs at once, back and forth, throwing curve-balls and catching you on your toes. They use skills that only the best DJ's at Ultra have mastered. They played a few amazing remixes of popular EDM songs today but played so many more fresh tracks that I had never heard before which was even more exciting. The DJ's were so in tune with the audience that they knew exactly what to do to get us moving. It was like I was listening to EDM for the first time again and it was making love to my ears.
I can't end this without talking about the audience. This music brings a quality audience, and high quality dancers. Now every single person in that room, on the dance floor or not, was moving.  I don't mean fist pumping, or jumping up and down. I don't mean doing a rare shuffle here and there… They were doing the lost art (within EDM) of dancing. There was grinding, and bumping, sliding and raving. With break beats, comes great break dancers… One after another battling it out on the center of the dance floor with the whole crowd cheering for them. There was such an air of positivity, unity and community, that you would think everyone at Ultra hated each other.
The interaction with the DJ's and the crowd was up with the best I've witnessed in the last 10 years. Everyone was relaxed, and mature, and there to have a good time. And it was a time to be talked about for sure. I would like to thank WILL CALL and all the DJ's who performed at Stanton Sessions for providing such an enjoyable night for me and my friends. They've all converted to break beats, and you will be seeing us again next year.
Rebecca Furman – Writer