It looks like our favorite EDM themed dating site has bit the dust, judging by the dead website and lonely facebook page that is littered with broken dreams and a copyright infringement notice.  Just a few months ago the founder of the site was quoted in an article on Blog.RaveReady.com saying: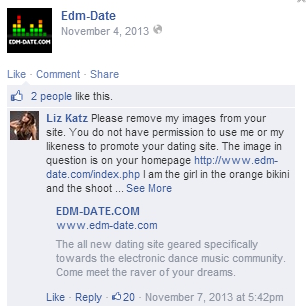 "…all of a sudden we got 1,000′s of new members in a matter of minutes – and 1,000′s more every minute after that. I have no idea how my site was initially found, but now its viral on twitter and appearing all over the internet."
It isn't the first of its kind, and it certainly wont be the last but for now we all just need to take a moment and reflect on what could have been, or what shouldn't have been.
Advice: If you want to meet someone that likes the same music, go see your favorite DJ live and make as many friends as possible without being creepy.