Remember when we found out about Safe in Sound coming to Ft. Lauderdale?  It was right after Revolution Live took the Mad Decent Block Party to the next level, taking over the whole street and the adjacent lot.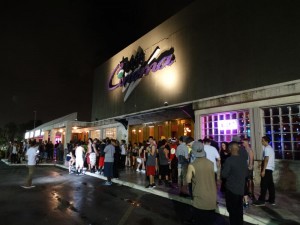 Safe In Sound was arguable the best dubstep show to come to South Florida outside of MMW, bringing some of the dudes that defined and took dubstep to the next level.
Now before I talk shit on Cinema, let me explain my relationship with good ole Club Cinema.  I have had some of the best nights of my life in Cinema.  Since no one ever bought liquor, the drinks were dirt cheap, literally less than the water!
Now that why I loved it, but I hate it because you can't stick your hands in your pockets to grab your wallet without worrying that a undercover cop is going to tackle you.  I've had friends – dead sober – get handcuffed and curbed by the BSO at Cinema.  Why you ask, because BSO has cute girls in the club that are strictly there to get as many arrests as possible.  So if you see a girl that is far too good looking to be there, its because she is a cop.
Revolution on the other hand, glorious!  Sure its smaller and hotter, but its downtown ft. lauderdale where citizens don't allow their police to just break into clubs without warrants and treat patrons like criminals.
Long story short, Safe In Sound should be outside at Revolution Live with thousands of wild kids, not crammed in the paddy wagon they call Club Cinema.   Either way, have fun!