A few weeks ago, EDMSouthFlorida.com ran an interview for our #homegrownsessions, which features up and coming local talent. We'd like to apologize for not noticing that PIC do not spin their music, but rather pre-record the mixing and "just press play" for the crowd. This was amplified by the fact that they were opening for The Bingo Players, as their first big show at Club Cinema in Pompano Beach, FL
Lip-syncing and just-pressing-play has become part of our reality as concert goers. The pressure to put on a good show overshadows the dedication to the art form, plain and simple. Lip-syncing is one thing, and I've heard only one acceptable reason to do it – when the singer is also a dancer doing a complex routine that leaves him or her out of breath (like Chris Brown, Usher, Beyonce). I'm not saying that these people are guilty of anything (besides Beyonce for the National Anthem), but fans go to see them for their choreographed dance performances too, so they would get away with It in the end. But phoning in a DJ performance? If you aren't up there mixing, it calls attention to all of the other important aspects of modern DJ'ing that Partners in Crime have been working at so diligently…….
[one_half padding="0 2px 0 2px"]
1. Technically Playing Music
One of the primary functions of a DJ is to play music, and PIC technically completes this requisite. Since they are not mixing the music, the same could be accomplished with an audio out cord and iPhone. They seem to be aware of popular songs to play, so congrats on your super special playlist! Anyone can be an EDM DJ!
[/one_half]
[one_half_last padding="0 2px 0 2px"]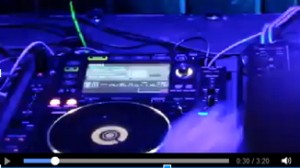 [/one_half_last]
---
[one_half padding="0 2px 0 2px"]
2. Turning Mystery Knobs
PIC have mastered the art of really getting into the song and turning knobs that seem to represent some sort of on the fly adjustment to the dynamics of the track. The Partner in the middle (I'm assuming he's the leader) seems to take charge of this assignment. It appears that he's noticed some sort of imbalance and knows just which knob to turn to fix it. It's the equivalent of a kid with a toy laser gun pretending it's a real one and making pew pew noises. The only difference of course, club go'ers paid to see Bingo Players, and PIC were there to entertain those paying customers.
[/one_half]
[one_half_last padding="0 2px 0 2px"]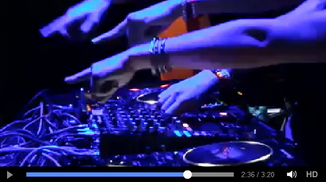 [/one_half_last]
---
[one_half padding="0 2px 0 2px"]
3. Dancing/Fist Pumping/Jumping
As you can see in the above video, PIC have this critical part of modern DJ'ing totally covered. This is where the group's diversity has a chance to shine. First, the middle Partner goes with the classic "one-fist-in-the-air" approach. Being the probable leader of the group, it's a powerful way to produce an iconic photo and really take charge of the party that night. So cool. Second, the girl seems to be the energy/effort behind the performance. She goes all out by combining both jumping and double fist pumping on the drop. Outstanding DJ work. Now last, but certainly not least, every 3 person, multi-gender, pretend DJ group needs a shades-wearing guy. Obviously the cool one, Partner 3 does a more hip hop influenced, pointed-finger gesticulation to convey the rhythm of the beat.
[/one_half]
[one_half_last padding="0 2px 0 2px"]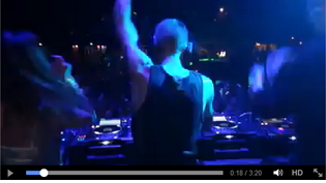 [/one_half_last]
In conclusion, this is only as big of a deal as you make it. Anyone that saw the Swedish House Mafia live knows that you can still have fun listening to a fully prerecorded set. It's about entertainment and I'm sure if every top DJ was audited we would be disappointed to realized how many are playing live. I think they should have embraced the fact that they got caught rather than deactivate their SoundCloud and Facebook page, it was a prime time to say "hey everyone does it, we just go caught….book us for your next event!"
You decide how you feel about this and comment below