Miami has always been a city to embrace the different genres of EDM as well as the events that come with it, before the rest of the country saw it as a goldmine. The first introduction of, what would resemble a major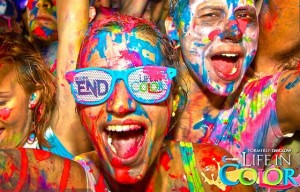 electronic festival, was in 1999 and was held in South Beach. Its immediate success have led the organizer to continually scale the operation and grow it to a $100mm+ operation with festivals across the world. Up until now Ultra has had a strangle hold on the electronic festival business but a not-so-new competitor is in town offering to help festival goers spend their newly acquired Christmas money.
Committee Entertainment has been growing the Life in Color brand over the past years from a college venture to a full-blown neon colored empire.  Every couple of weeks, Life In Color pops up at a new town, taking over venues yielding paint cannons and mind-numbing speakers with headlining acts in tow.  This festival tour will be the most extreme of all ventures the guys at LIC have attempted with several stages and a EDC worthy lineup to include:
R3hab
Calvin Harris
Chuckie
Steve Aoki
2 Chainz
David Solano
Brass Knuckles
Major Lazer
Excision
DirtyPhonics
Headhunterz
much more.
Beware of fake tickets in circulation, purchase your tickets online not from a dude in a dark alley.