Damn. I am Getting Hot.
U.K. producer and singer team Kito & Reija Lee recently completed a cover of Chromeo's "Night By Night." To close out 2013 and to mark their new association with Ultra Music, Australia, found each other through mutual friends and musical appreciation. The girls then relocated to London to be closer to their musical associates and influences.
Together they're inspired by a vast selection of genres and performers, from Kate Bush and J Dilla to M83. Separately, KITO's deep love for hip-hop and underground electronic music and REIJA's passion for rock and folk infuses an edgy and atmospheric sound.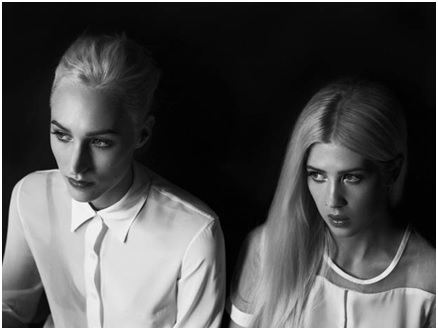 KITO's forward-thinking production first met REIJA's ethereal vocals on their single "LFO," released onSkream's label in 2009. Their first full EP, Sweet Talk, released on Diplo's Mad Decent, went to #1 on the U.S. iTunes Electronic Chart as well as grace the Billboard charts. Victoria's Secret used the song for their worldwide spring/summer campaign (http://youtu.be/smHEGR_PL5k) and the track has been sampled by Def Jam artist Trinidad James on "Female$ Welcomed."
They are currently in their studio in Brixton, London working on new material that will be released onPayday/Ultra Music in 2014.
[soundcloud url="https://api.soundcloud.com/tracks/120329890″ params="color=ff6600&auto_play=false&show_artwork=true" width="100%" height="166″ iframe="true" /]
Chromeo's Original