We are now just over a week away from a festival that is a refreshing change from the "standard" electronic music festival, literally a million have popped up in the past few years.
There are 80+ performers from the doors opening at 10am to the after party ending at 2:30am.  Which leaves plenty of time to make friends with the bar tender and master both water slides.  So the water slides are great, but honestly what sells me on this festival is the fact that I can spent $120 and take a breather in the middle of the day to go get refreshed and make it back before the executioner comes on.
VIP vs GA:
General Admission: $69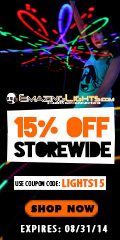 No Re-entry
You get in to the festival
Re-entry allowed
VIP enterance
VIP Bars
VIP Hosts
FREE afterparty tickets
VIP Viewing area
Anyone that has been to a festival knows how fucking miserable it can be to get there super early and be stuck baking in the sun working on your sunburn and dehydration.  The folks are IMF are going to let you come and go as you please throughout the day, as you please.  Now we aren't suggesting this is a great way to go take shots in your hotel, but technically you could go do anything.  "Oh that smoking hot guy/girl I just met is DTF, I will be right back, I'm running out to car" If that doesn't sell you, you also have your own bar, host, bathrooms, after party tickets and viewing area all for just $129.   I'm sold.  Shit, to avoid festival bathrooms I would pay just about anything!
GA will be a long hot line, but hey – it will still be fun but bound to be a long day.
*Disclosure: I am by no means a LIV bottle service guy who hunts for VIP to look cool, but for the money it just makes more sense here. No Affliction Shirts please
Enter to win a free ticket here: Enter Now