Hardcore Dubstep producer Excision recent announced a 2014 tour, promising 150,000 watts of PK sound.  To put that number in perspective, fellow DJ Datsik toured with a 30,000 watt system for the Firepower Tour and his manager was actually arrested for playing the system at 35%.  150,000 watts will possibly set structure fires.  There is only one problem, there isn't a single stop in South Florida – or is there?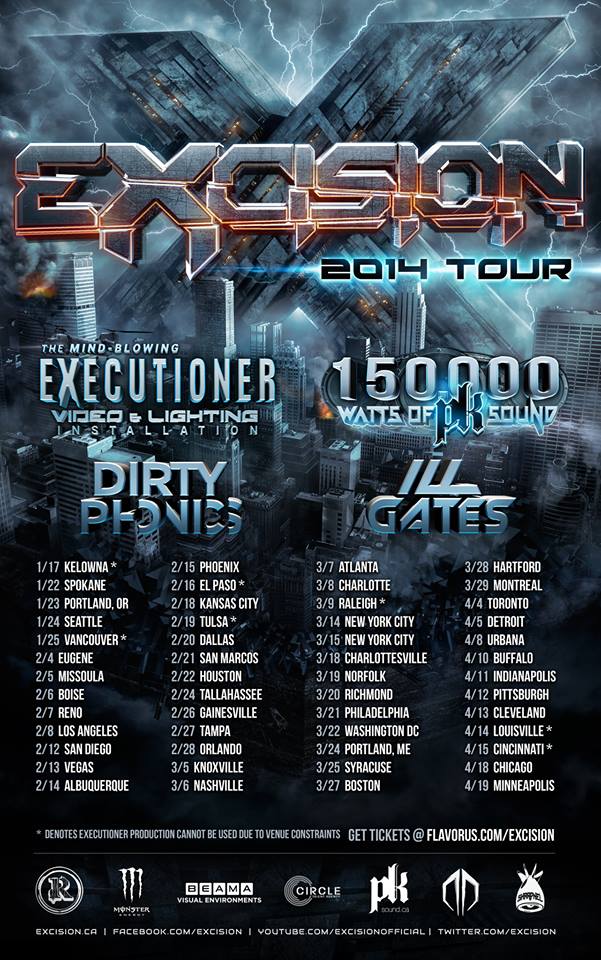 The last time he was in town, Club Cinema was nearly torn to shreds.  I think most people would agree, that was one of the best shows I have seen in my life.  In fact, I honestly think Pompano Beach city Council almost outlawed music and fun after that night.
The energy and attention to detail that excision brings to a life show quite honestly will blow your mind.  The overwhelming visuals and stomach churning bass mix together to create a orgy made up of "what the fuck" and "No one at work knows I'm here." Few people put so much detail into both playing live sets and coordinating their A/V to blow minds.
 We do get a chance to get some triple X rated music in our life, which also involves getting covered in paint, at the highly anticipated Life In Color Festival this December 27.
 Here is why we think there will be a Excision Appearance soon.
@SouthFloridaEDM PATIENCE, there is a reason there is no Miami show announced right now. First, Live in Color dec 27!!!

— Excision (@Excision) November 19, 2013
Ultra Music Festival is going down this March 28,29, & 30.  It just so happens that Excision doesn't have any stops on his tour the 30th.  In reality a hole in a tour schedule may not mean anything more than – give me some rest!  The executioner has been touring as Excision and Destroid for months on end and honestly deserves the sleep.   Something tells me, thats not right though.
Draw the conclusion that you will, but I'm banking on Excision closing out the bass stage on the last night of Ultra. Mark  my words.
Photo Credit: Rukes.com