Deadmau5's new series of candid interviews has featured the likes of Zedd, Pharell Williams, and comedian Russel Peters sitting passenger side on a coffee run. I'm sure Comedians In Cars Getting Coffee by Jerry Seinfeld had some influence on the simplicity of deadmau5's concept, and how easy it is to churn out internet ready content to stay relevant. Grab a celebrity and humanize them with an everyday, relatable venture such as grabbing coffee, and do it in a fancy car. I support this type of material over what Hardwell and Afrojack are releasing, which attempts to edify them through documentary. In the latest installment of the series, we see quite the departure from the usual 30 minute interview style. Deadmau5 takes the recently trolled Beamz By Flo for a ride and trashes them in cinematic slow-mo.
Beamz By Flo's cheesy infomercial caught the attention of Deadmau5 recently, and the super producer took special exception to the product's goal of turning anyone into an EDM beat maker. The infomercial suggests that Beamz By Flo uses magic red laser Beamz that act as triggers to pre-recorded loops. To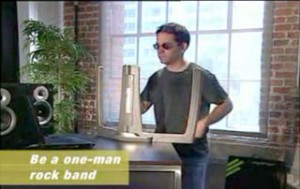 someone like Deadmau5 who makes a living meticulously arranging his own loops, creating his own sounds, mixing for thousands of hours to create works of art, Beamz can be a bit of a joke. To be honest, I don't know that much about the Beamz, but if they are trying to come off as a legitimate tool, then they used the wrong marketing approach. Infomercials are designed for impulse buyers, not serious musicians/producers who research ways to improve their workflow.
Either way, we're talking about Deadmau5 the person, aka Joel Zimmerman. He's giving his fans a peak into his life and personality in a less pretentious, more entertaining way than we've seen from other DJ's who feel the only way to promote is through grandeur and pageantry. What are your thoughts on these videos and Joel's stance on the Beamz?