EDM Blogs Announced Carnage's Arrest at Club Cinema Only To Find Out They Missed The Real Story
Ahhhh the internet.  What more can one say about a magical world where a people can recreate themselves into whatever they want. Want to be a big name DJ?  Market yourself on the internet with a couple thousands Likes or Followers courtesy of the hundreds of people willing to help you buy them and have a good mix/song/article.  Bottom-line is that their is really no regulation when it comes to the internet and knowing what is fact and fiction.   Several EDM blogs (ourselves included) found out the hard way over the weekend when Carnage came into Club Cinema and literally ripped the structure from its foundation.  #ASOC was real that night. Thousands of people screaming, dancing and having just a genuinely good time just before the fascist group of gestapos rushed into to tell Club Cinema and Committee Entertainment, "Show is over. Everyone go home." For someone not under the influence of anything but great music and an even better crowd, here is how it all went down.
So when I arrived at Club Cinema at 10:00PM, there wasn't a single parking space in the venue (Not uncommon for soldout shows at Club Cinema) so I was forced to park at the parking lot next door.  I understand that the owners of the shopping plaza do not want any part of the liability that goes along with patrons of Club Cinema parking on the property, but the $80 boot I received after the event left me wondering how much money was being taken in by the company booting the cars and how much was being shared with the owners of the property. There were literally 100 cars with boots on them when I left ($8,000 in 4 hours), and the lady taking money looked like she rolled out of a gutter. I don't know how a women making $2k an hour would be wearing her daughter's Coral Glades' sweater and driving a beat up Chevy pickup pulling in that kind of cash (I smell a kickback).
Walking up to the event, the only thing that kept me warm (it was 50 degrees) was the site of hundreds of people lined up to get into this show. Voices were heard saying, "We are getting in. $60 will be worth it. Trust me. This is Carnage."  The energy was so potent and it wasn't the body odor from the bros in the tanks.  I knew from the setting that this was going to be something I'd never forget while covering music.  A cold night. One of the biggest DJs in the world, and the best production company bringing the show to one of the most controversial venues in all of the EDM world.   Flash forward.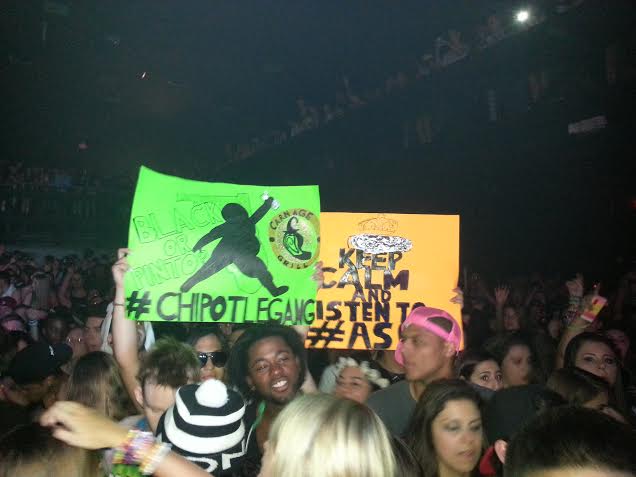 After Audien's performance (have never seen him live but I will again in a heartbeart), electricity rose from the crowd as a group of people huddled around a mass and headed towards the stage.  The audience knew it was time. Signs started being raised and "Chipotle Gang" was chanted from thousands in attendance. The minute Carnage's voice was heard rumbling over the PA system, the crowd might as well as came.  After ignoring the curfew laws of Pompano Beach, Carnage proceeded to play 45-minutes after their closing time of 2AM.  After he refused requests by Committee Entertainment and Club Cinema to stop playing, the police swarmed into Club Cinema and announced the show's ending. Here is a video courtesy of Matthew Lorenzo's Youtube page.
Say what you want about Carnage because he loves it. He loves the hate. It fucking fuels the man like coal to a locomotive. I've watched many shows at Club Cinema and seen Carnage many times at festivals, but the performance he gave at Club Cinema is something that nobody in that audience will ever forget.  My father always used to tell me stories about Jimi Hendrix and Led Zepplin and how great their performances were at the Fillmore East back in 1969, and I can imagine many will do the same with Carnage at Club Cinema in 2014.  This show immortalized Carnage's name and it will echo through the halls of EDM through all eternity.  Committee Entertainment also continues to be the best in the game when it comes to creating controversy that positively impacts their brand.  Who needs a PR company when you have geniuses promotional geniuses stirring the ship (I bet they read a Ric Flair book or two)?
And here comes the internet. That ugly beast that can make or break anyone's career.  After much attention was brought on by photos leaking from the show announcing Carnage's arrest, EDM Blogs took a knee-jerk response.  The post from Committee was definitely much like hearing a fire alarm go off in the middle of the night. Get the fuck up. Get the fuck out of the building. No time to waste and it's better to be safe than sorry.  Unfortunately, it is a journalist/blogger/asshole (what ever you want to call us) obligation to look for the facts before pulling the trigger.
Unfortunately @djcarnage got arrested tonight for over playing his set 45 minutes but he shut that shit down and he left with a smile.

— Committee Ent. (@CommitteeEvents) January 19, 2014
.@djcarnage arrested in Florida for playing overtime [Pictures]. http://t.co/bwWu9iwQYh

— EDMTunes (@edmtunes) January 19, 2014
@BrowardCounty where is @djcarnage #mugshot. I smell #bullshit #FREECARNAGE #NoMugshot

— EDMSouthFlorida.com (@SouthFloridaEDM) January 19, 2014
For those of you who have lived in South Florida, notably Broward County, long enough Sherrif.org  is a magical site. You know for those nights that you don't hear from you friend and wondering if they are asleep, dead or arrested.  After hearing news of the arrest at 3AM, I checked the site for Diamante Blackmon (Carnage's real name) and found nothing.
@edmtunes @dancingastro BREAKING NEWS: Diamante Blackmon detained. No arrest record. No mugshot. Thanks @djcarnage for the memories.

— EDMSouthFlorida.com (@SouthFloridaEDM) January 19, 2014
So what is the meat of this story?  What we all witnessed on that night is something out of a Orwellian novel where Big Brother weasels their way into our personal lives and intercepts our happiness in order to enforce the laws and control the masses.  In an article written by the Sun-Sentinel, the owner of Club Cinema gives his account of the night and the outgoing battle between Pompano Beach and Club Cinema (see our article).  For the outsiders at EDMTunes and Dancing Astronaut, it appears that Carnage was just disobeying authority.  From our perspective it is something much deeper. After getting rid of their liquor license, it was our understanding that Club Cinema was permitted to stay open longer.   Was Carnage instructed by Committee and Club Cinema to play on beyond the time to prove a point to the city?  Did Committee Entertainment post pictures of a fat, angry looking cop hovering over Carnage as a plot to drive media attention?  Were the cops just that stupid to violate the laws they were hired to protect?  Once again, there are a lot of unanswered questions because of the internet.  Only one truth remained. Carnage did not disappoint, and for that we thank you. For other artist, the situation was nothing short of a great joke.
@djcarnage glad you made it out alive! now you can write a hip hop album cuz you've been to jail.

— Excision (@Excision) January 19, 2014